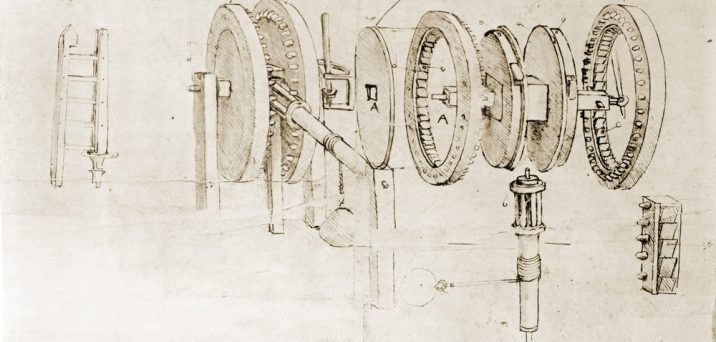 Contribution Amounts
When it comes to contribution amounts, simplicity is the greatest sophistication.
Oct 30, 2017
Simplicity is the ultimate sophistication.
–   Leonardo da Vinci
Best known as a Renaissance artist, Leonardo Da Vinci also dabbled in the engineering world. His sketches essentially predicted some of today's modern marvels, from helicopters to cars to robots. Were he alive today, I have a feeling that Da Vinci would have embraced smart phones and gadgets.
"Alexa, order more paint supplies please." 
While saving for retirement isn't a work of art or a modern invention, it is a simple way for anyone to be a sophisticated investor. You simply choose a percentage to save and it automatically comes out of your paycheck and gets invested – how simple is that?!
Chances are, you're probably doing this step already. But you should know, there are additional ways to make your retirement saving strategies more sophisticated. And don't worry, they're just as easy!  Our website is very mobile friendly, so pull out your smart phone and try these simple steps:
Simple Step 1: Determine If You Are You Saving Enough
Try our Retirement Planner in the Participant Education Center for a quick check on if you're on target or if you need to save more.  If you're looking for a more robust calculator, try the "Perform a Personal Gap Analysis" once you log into your account – it will even give you recommendations on how much to save to meet your future goals.
Simple Step 2: Save A Bit More
The IRS recently announced the updated indexed dollar limits for retirement accounts. For 2018, the savings limit has increased by $500, meaning you can save up to $18,500 next year in your employer sponsored retirement plan. (Catch up contributions remain at $6,000 for 2018). Now, I'm not saying that if you're currently contributing a single digit percent that you should jump to maxing out your contribution, as that might be a bit of a financial challenge. However, if you can increase your retirement plan contribution gradually, perhaps by 1 percent or 2 percent a year, you'll see the impact in your account balance down the road without hitting the paycheck too hard. Don't believe me? Try one of these calculators:
Remember, you can always change the amount you're contributing to your plan, it might just take a pay or two for the adjustment to reflect the update. Give it a try and increase the amount you're saving by just a little bit – you'll thank yourself down the road.
Simple Step 3: Automate Your Savings
Want to make saving super easy? Automate it! When you log into your account to change your deferral, set yourself up for annual increases. You simply tell the system to increase your contribution by a percentage each year until you hit your target savings rate. It's an easy way to reach your retirement goals, and it only takes a minute.
Da Vinci might not have been referring to retirement plans when he was quoted as saying, "Simplicity is the ultimate sophistication," but you can count yourself as a sophisticated investor if you employ these simple, time saving steps to retirement savings!