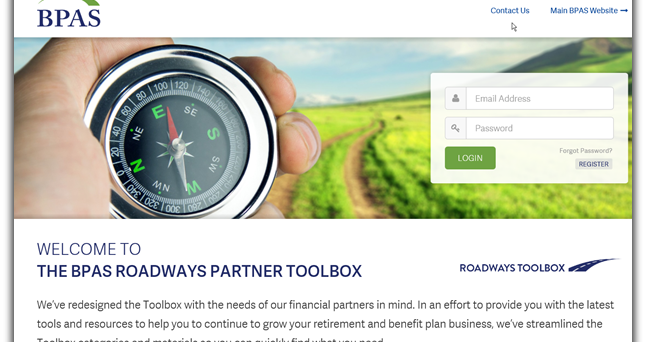 The New BPAS Roadways Partner Toolbox Is Coming Later This Month
Watch for our new BPAS Roadways Partner Toolbox coming later this month!
Oct 11, 2017
At BPAS, we're always looking for new ways to help our partners. That's why we created our Roadways to Retirement Partner Toolbox; to provide a library of tools to build your retirement plan business.
But building a tool isn't enough. Without updates and improvements, any tool will grow dull over time.
That's why, based on survey results from our advisors and corporate trustees, we've streamlined the BPAS Roadways Partner Toolbox. This will make it easier to find the tools and resources you rely on most to service our existing clients and foster new mutual business relationships. With fewer categories and an enhanced search feature, navigating the new BPAS Roadways Partner Toolbox is a breeze.
Along with fresh new look and fewer categories, you'll notice some great enhancements:
New Login Process
You'll need to create a username and password, but don't worry, the process is fast and simple. We've updated the login security as the contents of the Toolbox are available only to our financial partners for the benefit of our mutual clients.
You'll be able to enter your existing username and password as your new credentials provided your username is a current and valid email address.
Easy Navigation
We've organized existing and new content for quick access. Longer sections have side navigation to help you quickly toggle between sections.
Enhanced Search
We've updated the Search functionality to help you quickly locate what you need when you're not sure where to look.
Quick links at the top of every page allow you to easily grab the Proposal Generator Checklist and the Roadways POS presentation.
Archived Items
After a time, some tools need a facelift which is why we've removed many outdated items from Toolbox.
If you're looking for an old document, we've archived all materials from the current Partner Toolbox. Can't find what you're looking for? Visit the Contact Us page to let us know if there's a document you need that may be archived. Also, please note that we are updating many items on a daily basis. So, check back often!
We think you'll appreciate the enhancements to the new BPAS Roadways Partner Toolbox. If you have any questions, please email us at [email protected] or contact your BPAS sales representative.