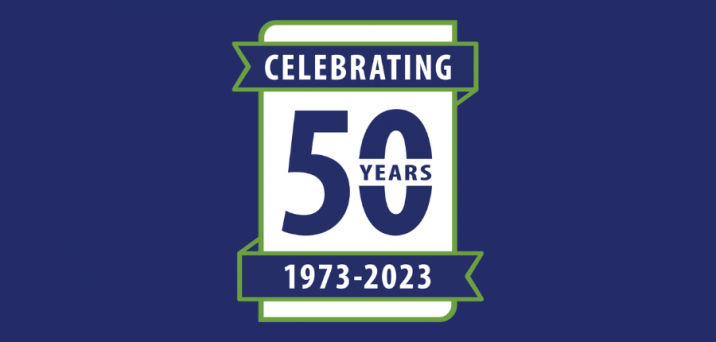 BPAS Marks a 50th Anniversary Worth Celebrating!
BPAS, Inc. is celebrating a milestone 50 years in business.
May 22, 2023
BPAS, a leading national provider of retirement plans, benefit plans, fund administration, and collective investment trusts, is celebrating its 50th Anniversary this month— and is inviting clients, participants, and the community at large to celebrate all year long!
BPAS (which stands for Benefit Plans Administrative Services) is an all-American underdog story full of resilience, innovation, and staying power that has kept both clients and employees satisfied through five decades of social and economic change.
Jerry Mayer, now 84, started BPAS from his home in Utica when retirement plans were administered on paper. He grew the business in the 1980s, when he and his brother were forced to write their own software to handle the growing requirements of the job. And while he started so small that one of his first employees was his teenaged daughter, he believed from the beginning that he was building a company that would last.
"I'm an optimist," Mayer said. "We built our firm with integrity, and with good people. The people we hired really mattered to us, and the clients we worked with did, too."
In 1996, BPAS was acquired by Community Bank System, Inc. Barry Kublin sourced the transaction with CBSI. Kublin then led the company through tremendous growth during his tenure as BPAS CEO until he retired and moved to an outside advisory capacity in 2021. "We never defined ourselves as qualified plan administrators," he said. "Rather, we defined ourselves by our people, technology capabilities, and market opportunities."
BPAS has transformed into an innovative one-stop-shop for all things benefits-related. Today, this "little company that could" supports more than 4,500 retirement plans with $110 billion in trust assets and $1.3 trillion in fund administration for companies big and small, including many national brands.
As CEO and President of the BPAS parent company, Community Bank System, Inc. (CBSI), Mark Tryniski noted, "When I started with the bank in 2003, the revenues of BPAS were somewhere in the $13 million range, and today it's a $125 million dollar business. So it's been a tremendous story of growth and success. But it's also a story that starts and ends with the fact that we care for our clients, and we care for each other. It's our culture that has made this company thrive."
Instead of focusing on outward appearances, BPAS focuses on doing the work of delivering the highest-quality products and services to its clients and participants. "It's still very much about the people who make it happen," said Paul Neveu, who became BPAS CEO in 2021. "We may not be the flashiest company around, but that's the way we like it. Our offices aren't located in some glimmering tower in Lower Manhattan or Boston's Seaport District. They're located in a set of green-roofed low-rises in an office park in Utica, New York, which – if you think about it — is really the ultimate flex!"
BPAS also maintains offices in Boston, Buffalo, Houston, Manhattan, Minneapolis, Parsippany, Philadelphia, Pittsburgh, Rochester, Sioux Falls, Spokane, Syracuse, and San Juan.
"It's true that we're not out there spending tens of millions of dollars on advertising," added Neveu. "Yet, thousands of employers—from household name employers and financial intermediaries to small businesses–have come to rely on us. We are in this business for one reason: to be an outstanding administration, actuarial and trust services firm. We're not here to raise assets in mutual funds or cross-pollinate other financial products. We are here because we believe we're experts at what we do. Yes, we try to improve that value proposition every day, and when we make a mistake we own it. But we're committed to this lane of the highway."
BPAS is now a national force in the benefits-plan industry, with 410 employees serving more than 620,000 participants across the United States and Puerto Rico. BPAS' in-house services include Workplace Retirement Plans, Actuarial & Pension, Health Benefit Consulting, IRA, VEBA HRA, Health & Welfare Plans, Fiduciary, Collective Investment Funds, Fund Administration, and Institutional Trust.
"We do a lot of practical things that solve problems for fiduciaries," said Neveu. "We levelized fees and operate with true open architecture on investments. We take significant work off the desk of human resources. We answer the phone and call you back quickly. So in many ways, we've got a compelling story at BPAS—one that sells itself without the need for big advertising and office towers."
Whether it's Actuarial and Pension Services for a Forbes 500 company in Boston or overseeing a 401(k) plan for a mom-and-pop hardware store in the Midwest, every client is treated with the utmost care and provided with the best experience possible.
Humble beginnings. Continuous improvement and the willingness to admit what isn't working. A culture that values interpersonal relationships. These things aren't flashy. But, they are what have made BPAS quietly grow for five decades to the organization it is today.
In the months ahead, BPAS will release a series of videos on its company website and social media channels, featuring interviews with some of the company's key team members: from BPAS founder Jerry Mayer; to the visionaries who saw what an asset BPAS could be to the future of Community Bank back in the mid-1990s; to the employees who are moving the company forward into its next 50 years by "Solving Tomorrow's Benefits Challenges Today."