In recent months, we've been using video conferencing for work, school, club meetings, family gatherings, and more. And, it's probably here to stay– it's convenient for participants and cost-efficient for plan sponsors and financial intermediaries. Whether you're running webinars or meetings, let's explore some tips for you as the presenter to prepare for effective video conferencing.
Command central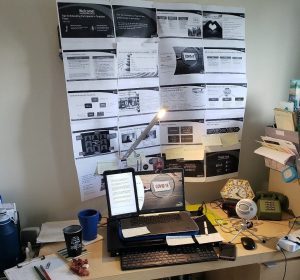 I've included a picture of my recent setup to provide a behind-the-scenes peek of how I prepare for a webinar. It's not what my normal desk looks like, but you'll find that typical ergonomics and routines go by the wayside in these situations, so if at all possible, try to schedule any video conferences back to back so you can return to your normal routine quicker.
The Setup:
Internet–Make sure your internet connection is hardwired. Now is not a good time to trust Wi-Fi.
Audio–It's more important than video, so double, triple, and quadruple the quality of your audio component. Use a landline phone with a headset, if at all possible. If not, you can find an external microphone for a reasonable cost to use with your computer audio. Your least favorite friend in this whole situation is the microphone on your laptop/computer, which tends to have the worst sound quality. If it's your only means of communicating, grab the headphones that came with your smartphone for a step up in sound quality.
Time management–An agenda and clock will keep you on track. There's a good chance that the teleconferencing program will override your computer's clock. Since I don't want to look at my phone nonstop, an inexpensive alarm clock does the trick.
Additional screens–Having an extra monitor or screen works wonders. I use a tablet to either have notes on it or to log in as a participant when I need to help them troubleshoot. If you're working with multiple monitors, make sure that you're comfortable with opening and closing the extra windows and only sharing what you need for the teleconference – not everyone needs to see what's on your other screens, like your email!
Video–Your webcam should be an arm's length away. Try to stack books, adjust your chair or reposition the camera's angle – your goal is to have your eyes about one-third from the top of the video screen.
Lighting is key–I find lighting to be the trickiest component, as a sudden rainstorm can make the best lit room turn dark and dreary. That said, you should have the light in front of you, not behind you. Experiment with curtains being closed or open. Realize that how you have everything set up at 9:00 am may not look the same at 3:00 pm and be ready to grab an extra light or reposition as needed.
Hydration–A glass of water helps you stay hydrated, buys you a few seconds if you need to compose your thoughts, and is really appreciated if you happen to have a coughing fit. (Make sure you know how to mute yourself, too, if that does happen!)
Talk to a friendly face–Most of us don't like looking at ourselves, and if you're conducting a video conference, you may be looking at yourself a lot. Tape a picture of your best friend next to your camera and talk to them during your meeting. My niece is one of the funniest people I know, so I always tend to find myself "talking with a smile" when I remember to do this trick.
Expect the unexpected
Outside interruptions–unexpected guests and noises can easily occur, especially when you're working from home. I've been doing webinars and recordings at home since my 11 year-old goldendoodle was a puppy. If he could talk, he would tell you all the benefits of saving for retirement! While I try to keep him out of the room, there's always a chance he may barge in, so a few dog treats keeps him happy and quiet. If you can plan around childcare, dog walkers or the recycling truck, that's great. But if something unprepared happens, just realize that we've all been there, and most people  are usually fine with it.
Have a back-up plan–Last, but certainly not least, make sure you plan for unexpected technical issues. Have an extra microphone or different way to connect audio close by. (See that old-school green phone in the background? It still works and if my mic failed me, that's what you would see me use.) Print off the slides or your script ahead of time so if you lose the video connection you can carry on seamlessly. You can certainly keep a copy of the slides stapled on your desk – no need to imitate the FBI storyboard look I have going on, but find a method that works for you.
Your goal should be preparation, not perfection. And if all of this seems overwhelming, just focus on a tip or two; you're conducting a webinar, not directing a Hollywood movie. Stay tuned for a future blog post where I'll provide tips on keeping your audience engaged.
Melissa Varvarezis, CFP®, QKA, is a Communication/Education Specialist with BPAS Fiduciary Services.